Frank Howard Clark's observation may be tongue-in-cheek, but it points to a serious issue. In many cases, our society has not yet found the best approach to ageing and too often our "solutions" don't account for the sheer diversity of needs, priorities and paths to retirement and beyond.
If the insurance industry is going to solve this problem and truly create differentiated financial solutions to meet seniors' needs, our industry needs to re-think our approach. We need a better understanding of how people (and their families) tackle – or avoid – decisions about old-age provisioning, and a better way to target the different needs, aspirations and personalities of this diverse group.
Two recent Swiss Re reports – "Who pays for ageing?" and "Who are the ageing?" – help illustrate the sheer size of the ageing wallet, how insurers can bridge the gap caused by declining state support and, most importantly, offer insights into why insurers' typical approach to segment, and market to, seniors isn't working and how we can change it.
A silent risk
The recent spate of floods, fires and other natural disasters are dramatic cases of how homeowners and policymakers become acutely aware of the need – and value – of insurance protection. Unfortunately, the financial needs that come with ageing don't blow in like a hurricane. They hide in the distant future and are too easily ignored … for now. And as state support shrinks, the future potential disaster grows. A burgeoning senior population without financial protection will create catastrophe of its own kind with damage of much larger and longer lasting proportion than a hurricane.
But calling attention to the need for risk transfer solutions to fund longer lives is, arguably, a tougher job than the challenge posed by natural catastrophes. Consequently, ageing solutions have to be properly designed, marketed and customized to make a real difference to people's lives.
Swiss Re conducted more than 9,000 interviews with consumers around the world, and gathered insights using a unique approach to research that included listening to conversations among families about the often taboo topic.
Truly consumer-centered research
First, we drilled down to find out who pays for our ageing populations across the whole public-private spectrum and, not surprisingly, we discovered that across the developed world and China, it's the combination of state and families that shoulder the largest share of the cost burden at 70%. Savings, in the form of private pensions and other assets, bears 25% followed by insurance products, at a mere 5%. Western Europe look somewhat differently, and specifically in Germany the state and families cover 87%, whilst private savings cover 11% and only 2% is covered by insurance (see picture).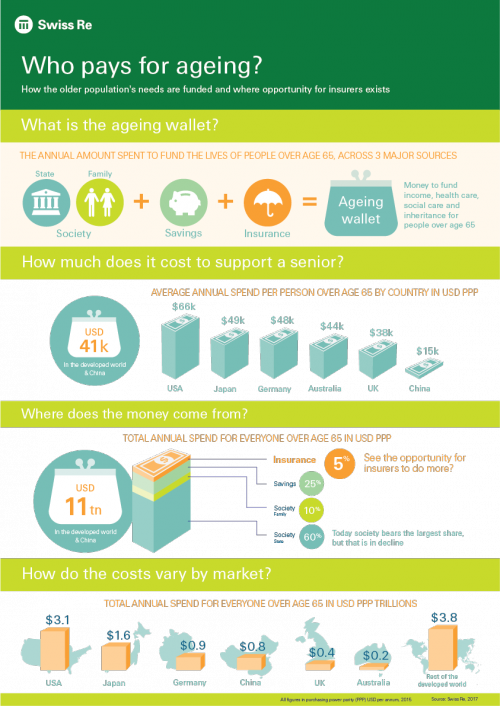 Trends suggest the overall amount spent on seniors will grow, society's share of the wallet will shrink – due partly to growing public sector deficits – and the share of insurance products will remain static, at least until the industry takes a more differentiated approach to the ageing market. Of the USD 11 trillion needed annually to ensure the financial security of the elderly in the developed world, only a paltry amount is covered by insurance products.
In the long term, this is unsustainable for everyone.
Going forward, we need a holistic approach to solve the imbalance. Public policy makers must thoroughly understand the drivers for financial service providers and conversely, banks and insurers need to consider the provisioning provided by the state and the family.
Attitudes vary, and so must our products
We spoke with people from working age to post-retirement across the US, Europe, Asia and Australia and found strong variations in attitudes towards life and how people approach preparation for retirement. Questions like "what do you want out of your later years" or "how prepared are you for retirement" show that most people have no clear answer.
 

Respondents in some countries were very strict and focused on old-age provisioning while in other regions they espoused an "enjoy life while you can" philosophy.

We also found it particularly interesting that across geographic lines, there was a strong theme of younger people starting to care more about future planning than some of their elders.

Based on the findings and four need types we identified as common across all countries, Swiss Re developed a range of prototype "product + service" solutions, aimed at some of the most pronounced global and local needs. These range from addressing dementia and positive ageing to care networks and intergenerational propositions. We went back and tested these with consumers to assess their preferences and willingness to buy.:
Our research shows higher growth potential for solutions that can transcend the purely financial, especially those that can connect with people and entities providing care for the elderly. Here are two examples:
Making a real difference to people's lives
Recently an insurance company developed a way to improve the care options available to consumers in their later life. This insurance for assisted living provides both flexible and finely tuned cover that suits many objectives. For example, it works for those who wish to supplement the support they receive from the state, for people who'd like professional care in their own home, or for those who just want peace of mind from an insurance policy in case they need care in the future. Policy options include coverage to help with the purchase of adaptive devices like chair lifts in the home and financing short-term respite care for a volunteer caregiver who needs to take a short break.
Not so long ago, Koreans over 60 were unable to purchase cancer coverage, despite strong demand for this kind of insurance. A detailed needs and gaps analysis to assess the need, understand the gap and how best to fill it was done resulting in developing a brand new solution tailor-made to the insurance company's own risk management structure and distribution channels. Korea's relatively generous national health insurance system provides cover for serious illnesses – but this policy expands the protection, with a lump sum payment to help cover other unanticipated costs.
Concluding remarks
Historically, the re/insurance industry has focused on working age individuals where the pooling effects provide greater diversification and claims are less likely. Today, our protection and our view needs to expand to include products that smooth consumers' risks – even into decumulation stage.
 

Our research shows there is a clear desire for a positive angle in ageing solutions. Not only to provide for the bad times, but also to enable people to live their dreams, stay healthy, and remain professionally and socially active. Staying at home for as long as possible also turns out as a top priority. Therefore, any products offered should complement the help from the "family" rather than try to replace it. This can be done by enabling informal caregivers to support as they are needed and allowing for alternative approaches as well as assistive new technologies. Changes to seniors' lifestyle and the traditional family model create new and currently unmet needs in funding, health and care provisions. Hence, care packages should help hedge against unplannable worst cases, yet not trying to solve everything at once.

 
In the coming years, we perceive to see a shift in the Nordic social welfare model as the states are not able to fund as much social welfare as in the past. Different kinds of health insurance covers provided by the insurance companies have already found their way and play a natural role as an addition to the social benefits. The penetration rate of such covers is very high among the working population. When these generations retire, they will be used to having such health covers and will also be prepared to pay for them. This will create an insurance need starting in the very near future.
We are not concerned about our own grey hairs that are appearing, but we are concerned that if we don't change our approach to be more consumer centric, we'll miss out on an opportunity to be a critical part of the solution and an important first line of defense against the financial risks of ageing. Together let's work to head off this hurricane before it happens!